thank you to everyone who has purchased tickets to TEDxKanata 2021 – please check your email for the access link to the event
TEDxKanata 2021 is excited to introduce this year's incredible lineup of speakers: Andrew Reeves, Kevin Bourne, Justin Sutherland, Margaret Dennis, Karla Briones, Kevin Parent, David Mosley, Sandra Schillo, Tina Liu, and Tenille Houston!
We can't wait to share what they have in store. Visit the Speakers page to find out more about them!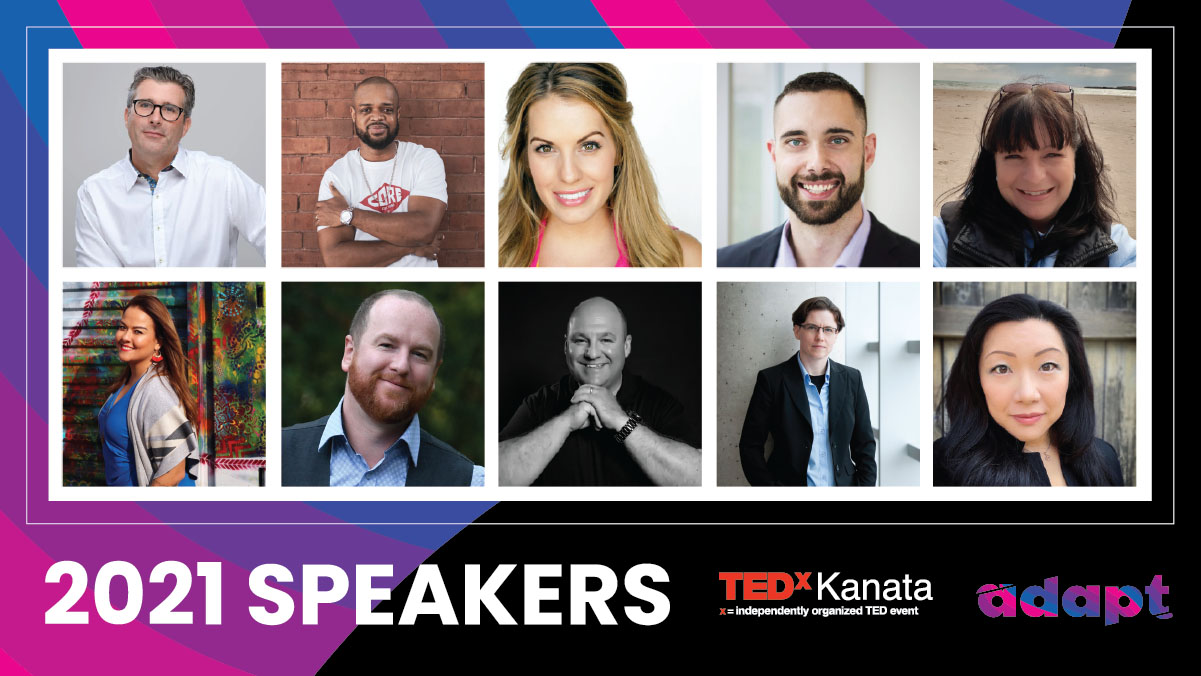 The
TEDxKanata

2021 theme is adapt
It reflects our ability as a community to adapt, particularly in perilous or uncertain times. We demonstrate our ability to adapt through the creation and sharing of ideas which propel us into action. Some actions fail, others triumph. Our strength lies in our ability to continue to adapt to improve ourselves and the context we live in.
Ideas and the sharing of ideas matter more than ever right now. We are struggling together to make it through these unprecedented times during this global pandemic. Yet even as we are in lockdown, isolated and anxious, we are guided by our ideas that help us cope and navigate through uncertainty. This ability as individuals to adapt through our ideas is powerful.
TEDxKanata is a platform for ideas worth spreading, where idea seekers and open minds are inspired to act for positive change. Our speakers come in different shapes and sizes with diverse backgrounds and varied perspectives – and with or without public speaking experience. Our speaker community has a willingness to share an idea that has been shaped in their individual context and, from the Red Dot, has the potential to become globally relevant.
thank you to our committed partners and sponsors
See who's making TEDxKanata 2021 possible