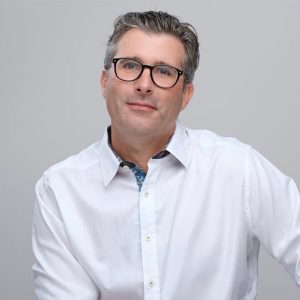 The Dyslexic Mindset: It's Not What You Think
Coffee and life get Andrew up in the morning.
Life is good. Every day is something crazy and new, coming with challenges that make him want to get to work.
Linebox Studio is Andrew's "baby." He started the firm in 2007 after spending over a decade working at large architecture firms in Toronto and Ottawa. Architecture is his life's work—but when Andrew isn't 'architecting', he plays hockey, golfs, mountain-bikes, and hangs out with his family.
He's an opinionated person, and his office 'rants' (about anything from the detailing on buildings to why stadiums should always be downtown) could rival traditional power sources. His favourite architects are Ludwig Mies van der Rohe, Le Corbusier, and Frank Lloyd Wright—and his favourite building is Neue Nationalgalerie in Berlin.
He also has a knack for recognizing strong talent, which has helped him build the Linebox super team.
After a long day, he looks forward to coming home to his awesome wife and two kids…how can he complain?