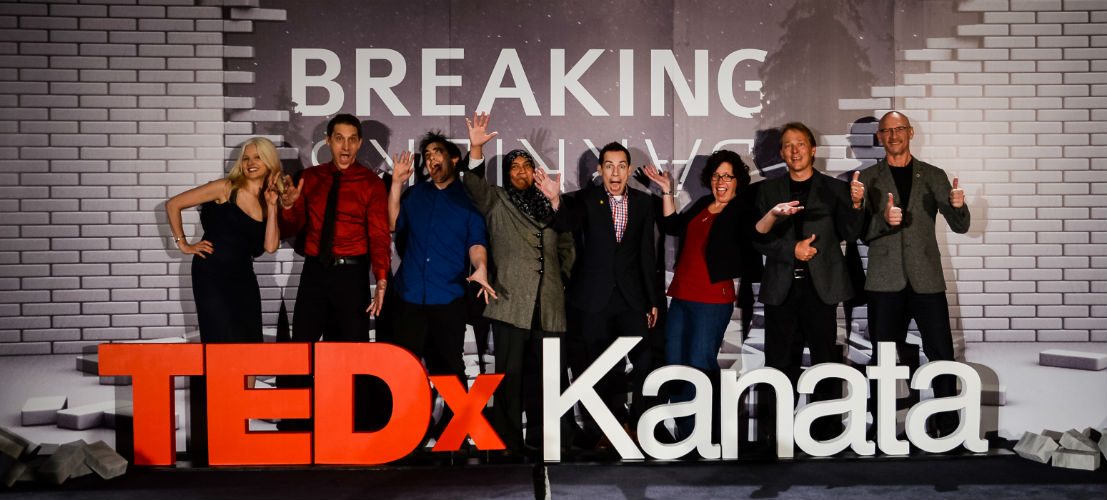 Located just west of Ottawa, Ontario, Canada; Kanata is a hub of captivating people with extraordinary ideas. In addition to its fascinating, talented community of thought leaders, Kanata is also home to world-class companies such as Mitel, Halogen and You.i.
With so much talent in its very own backyard, TEDxKanata's organizers and partners came together on March 31 to deliver a second annual event filled with engaging speakers, innovators and collaborators that nurtured interesting ideas and generated thought-provoking discussion throughout the entire evening. This year's theme—Breaking Barriers—was sure to live up to its title.
The evening kicked off at 4 PM in a conference room at the grand Brookstreet Hotel, which was transformed to reflect the Breaking Barriers theme. As the crowd of over 275 anxious attendees took their seats, Jenna Sudds, TEDxKanata's Curator, delivered her opening remarks and acknowledgements.
Craig Gauthier
Jenna's welcome was followed by the first speaker of the night—Craig Gauthier, who shared the importance of perspective in our ever-changing technological landscape. A successful entrepreneur, investor, filmmaker, author and speaker, Craig overcame several challenging health problems at an early age—which fueled his lifelong drive for success. Perspective is everything, he told the crowd during his time on stage, and technology is an incredible tool. But does it separate us, rather than connect us? Are we losing perspective on real world problems, and our ability to contribute to something meaningful? Craig ended his talk with a call to action: let's engage and connect with one another more in the moment to drive change.
Doug Smith
The next speaker was former NHL star Doug Smith, who at 18 years old, was drafted 2nd overall into the NHL to play for the Los Angeles Kings as their youngest player ever. The next 11 years were defined by hockey successes, hockey failures, his lack of awareness and the culture of a collision sport. His career ended suddenly at 29 years old when he shattered his spine during a game. Doug spoke about the mental vs. physical effects of trauma, and how the mind could very well be one of the strongest barriers we consistently face. As such, we don't know the power of the mind, nor do we know much about what goes on "behind the scenes" – even in our own bodies. What can be said for our physical versus our mental boundaries? The reality is, he pointed out, is that at one point or another, we all suffer from a trauma. There are blurred lines between the mental and the physical – and also, a surprising beauty, opportunity, and positive outcomes that can be teased out from any trauma, or initially perceived negative experience.
Bruce Linton
After a short break, the crowd was ready to welcome its next speaker, Bruce Linton, CEO of Martello Technologies and CEO and co-founder of Canopy Growth, a medical marijuana provider. Bruce began by sharing his thoughts of business and entrepreneurship, and "the opportunity that happens when you're there early, and when you navigate quickly." He tackled numerous barriers during his time on stage, from legislation and regulation, to criminalization – all challenging when it comes to the issue of certain substances, such as marijuana. Throughout his talk, Bruce demonstrated the ability of barriers to create opportunities. "Barriers" are often perceived in a negative light. But, maybe – if we change our semantics and associations, and if we learn to thank our barriers, and to use them as an opportunity for growth rather than as a limitation – we can create something useful to many.
Alex Munter
Alex Munter, President and CEO of the Children's Hospital of Eastern Ontario (CHEO), was up next to discuss the barriers and limitations and the potential future trajectory of the Canadian health care system. He highlighted some major complex issues, such as childhood obesity, mental illness, poverty, creating healthy communities, and smoking. Behind solving these issues, he said, lies a question: do we want our collective interest to further the needs of society to trump or concede to our individual interests and beliefs? These often imply making controversial and difficult decisions, and involve using taxation and limitations on marketing and advertising.
Justina McCaffrey Antonia
The evening of inspiration kept right on rolling with the story of Justina Antonia, and her changing name. As a highly respected fashion designer, Justina shared her knowledge on the importance of branding. Businesses place a strong emphasis on the power of branding, she said, but also suggested that we should think of ourselves, individually, as brands as well. She asked, what happens when your name, or brand, becomes recognized not only locally, but globally? Is that success? And what happens when divorce hits? You realize that on top of the emotional turmoil, you're also suddenly caught in the middle of negotiating in a heated battle of intellectual property. Who owned the brand? Who owned the designs? Protect your name, Justina urged the audience, and protect your work.
Sheema Khan
After a second short break, the crowd returned refueled and recharged, and ready to welcome the next speaker—Sheema Khan. Sheema emigrated from India to Montreal at three years of age and earned her Masters in Physics and a Ph.D. in Chemical Physics from Harvard University. She also completed her post-doctoral research at MIT and McGill. She began her talk by asking the audience, who's writing your story? Are you? Or are you living the story that has been written for you by others? "Writing our own story speaks to our individuality, our independence, our integrity," she said. "It speaks to our humanity." Sheema continued by discussing the spread of constructed narratives and agendas concerning the traditions, heritage and culture of Indigenous people – and how we apply this critical view to all cultural identities. She added that the Canadian landscape is a diverse and multicultural one, and posed the question, how do we preserve our cultural identities? How do we protect a culture, and prevent cultural genocide? Sheema closed with her most powerful question of the night: "I choose to write my own story, with the pen of my conscience. And so I ask you, will you buy into an official story, written for you, by others – or will you be your own author, and using the pen of your conscience, write your own story?"
Katherine Kortes-Miller
When you open your TEDxKanata talk with the line, "Life is a terminal illness, which is sexually transmitted" – you've officially got everyone's attention. That's what Dr. Katherine Kortes-Miller did as she took to the stage to share her insights on death and dying. A researcher, author, lecturer and former social worker, Kathy has also taught a variety of subjects including gerontology, social work, grief and loss. Kathy highlighted the importance of opening a dialogue about death and dying, and envisioned an ideal world where we no longer avoid "the elephant in the room" and feel comfortable to talk about, and explore, the reality of our mortality. She encouraged the audience to take back the narratives on death and rely on strengthening our communities and personal support systems in handling the transition to "the other side."
Andrew Pelling
Dr. Andrew Pelling rounded out the evening as the final presenter at TEDxKanata. A biohacker and experimental scientist, Andrew uses low-cost, open source materials to create technologies of the future – including his team's current work of growing human cells in apples and living skin on LEGOs. Andrew has studied around the world, earning a Ph.D. from the University of California, Los Angeles, and was a senior research fellow at the London Centre for Nanotechnology. He has also been published in several patents, books and publications. Andrew began by asking the audience, how can we break the boundaries between the academic world, and the everyday world? Academia influences our culture, society, economy, politics, along with our relationships, our city's stories – basically, every aspect or our lives, and yet, we rarely get to take a look, contribute, participate in, or sneak a peek behind the scenes at how all this research and intellectual community functions. Andrew shared his vision of relying on the curiosity and creativity of the community, in providing them with accessibility and resources, to accomplish great things. He believes that once you provide the necessary ingredients in the recipe, you are destined to yield a fruitful result. Bringing research off campus and into the local, accessible scene allows for people of the community to just walk in off the street and be transported into a world of real research, cutting-edge design, and brand new developments, all ahead of the curve.
That's a Wrap for 2016
With tons of excitement, social media buzz, and over 275 attendees at this year's extremely successful, sold-out show, not only did TEDxKanata have everyone reflecting on the question of the night: 'What does the concept of "Breaking Barriers" mean to you?' but it also firmly established Kanata as a collaborative and inspired community that is paving the way for Canada's future.
https://www.tedxkanata.com/wp-content/uploads/2014/11/TEDxKanata_2016_Speakers.jpg
601
1500
TEDxKanata
https://www.tedxkanata.com/wp-content/uploads/2017/07/TEDx_logo_Kanata-300x72.png
TEDxKanata
2016-04-10 21:07:17
2017-08-08 16:34:12
TEDxKanata 2016 : Breaking Barriers